What to wear during LA fashion week,
Its that time again! Time to preview what our favorite designers have come up with for spring 2014. Even though we're seeing spring collections down the runway in major fashion capitals such as New York and Milan, LAFW fortunately takes place during fall (my favorite time of the year) so naturally our wardrobe would be fall-based right?
Unlike PFW or other major fashion weeks, LA doesn't hold the pressure of impressing celebrities because STREET STYLE dominates this city during fashion week. It is a time for up and coming designers to show their latest projects. So if you happen to be one of the lucky ones who attend these events and have no clue what to wear, here are some trends for you to consider:
1. CUT-OUT BOOTS These versatile shoes have been a blogger's fave for spring but are carrying out into the fall because they are booties after all.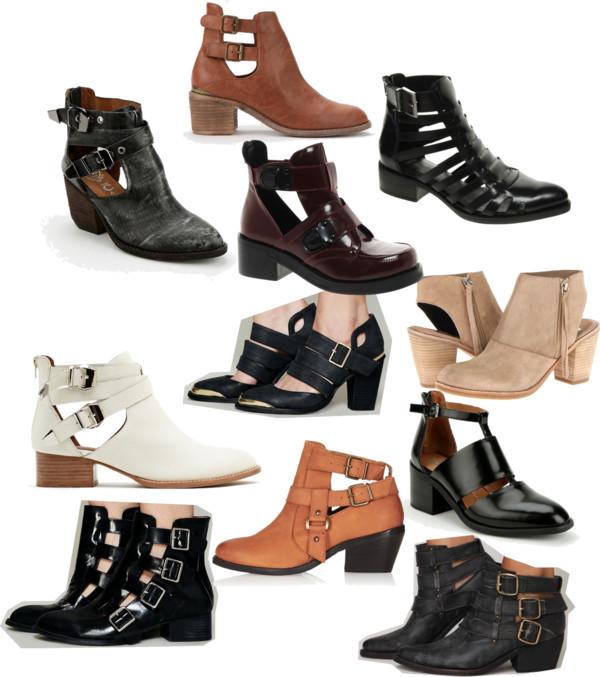 2. CASUAL PIECES OF MADE OF LEATHER Whether it's a leather running short, leather jogging pants, or a leather cap, most leather pieces definitely make a great staple in your wardrobe and makes any casual outfit edgy and mod. Pair it with a graphic or phrase crop top and a cut out sandal to make it casual, or pair it with a great bustier, boxy round neck coat, and ankle strap heels or pointed toe heels to make it look modern.
3. CAPES, KIMONOS, AND FLOWY CARDIGANS You really can't go wrong with having these items in your wardrobe. They flatter almost any size and shape and can make an outfit look fun and flirty. Pair it with a high waist pant or shorts, a fitted crop top, and platform booties for a daytime look and for a night out, wear it with a bandeau jumpsuit or a midi bodycon dress with platform Mary Janes to make a more elegant look.
4. MID LINE SKIRTS/DRESSES The midi cut is a classic trend that should never go out of style. From midi asymmetrical skirts to a midi long sleeve black dress (one of my faves) you can always style a midi piece to go from casual to dressy so effortlessly. Throw on a leather jacket with cut out boots to make it casual or put on a statement necklace with booties that have a see through wedge and you'll definitely be ready for FASHION WEEK.